A. de Jong Academy
Our work environment is becoming more complex; knowledge of technology, communication- and negotiation skills, and business insight are very important at several levels. In order to challenge our employees and offer them the opportunity to develop, and to meet market demand, A. de Jong Group has set up its own Academy.
Education on a regular basis
The A. de Jong Academy offers various programs, training courses and workshops to train the staff on a systematic basis. In this way, we retain technical expertise, discover new talent, keep knowledge up-to-date and deploy people in a sustainable way so that they can develop and will remain satisfied. When our employees grow, the company grows!
Talent program
The A. de Jong Academy officially started with the Talent Program in 2018. The program is focused on personal- and business development, and professional excellence. Eleven employees have started off this program, which consists of ten meetings. The participants work on both theoretical knowledge and practical situations, formalized in interactive exercises with actors.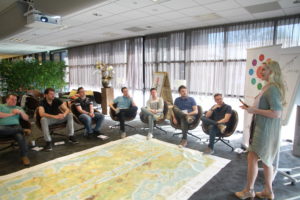 Program for managers
The Management Program has started in the third quarter of 2018. This program is aimed at accelerating development as a manager. Managers can make the difference between an average and an excellent organization by motivating employees and giving them the adequate guidance for development. The program provides insight into their role.
Knowledge sessions and workshops
Furthermore, interactive knowledge sessions are organized every quarter. This can be on a specific technical topic, but also on a general subject such as smart industry or time management. Knowledge sessions can be given by a colleague or by an external party. As an employee of A. de Jong Group, you will be invited to participate. In addition, we organize workshops to treat a topic in more detail. For example conversation techniques, with the focus on performance reviews and formulation of SMART objectives.
Would you like to know more about A. de Jong Academy? Please contact our Human Resource department: info@dejong.nl.