---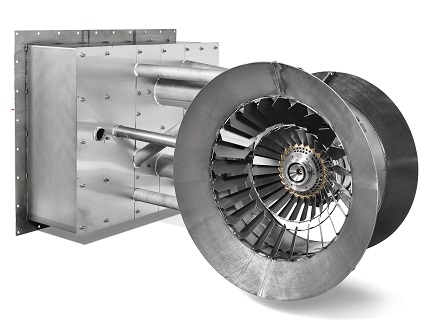 Boost your energy efficiency with TTL/MG burner technology
The energy efficiency of a combined cycle plant can be boosted by reducing oxygen levels in the stack. The TTL/MG burner technology enables you to achieve that goal.
The unique attribute of this burner is that it provides a stable (natural)gas and/or oil flame with low emissions in low oxygen conditions and in fair temperatures in TEG. When the turbine is down, the duct burner works with fresh air (FAF) giving maximum operating flexibility for the plant.
Very low oxygen levels up to 2,5 %vol dry of the burner flue gas flow can be achieved during both TEG and FAF mode.
In addition, its unique design ensures a low NOx emission, being up to 30% lower. Due to the modular concept, the burner can be designed to fire virtually every fuel, ranging from hydrogen-rich gasses to heavy vapors in every combination. Also, liquid fuels ranging from light fuel oil to even heavy fuel oils can be fired, in both TEG and FAF modes. Fuel oil atomizing is achieved with two (2) opposite oriented air 'knifes' working on low-pressure air which brings substantial savings in operating costs when compared to steam atomization. Dual, or even triple fuel firing, have been put into commercial operation.
Curious which solution we can offer you? Call our sales team on +31 10 4469222.