Sustainability and CSR
A. de Jong Group is fully committed to sustainability and corporate social responsibility (CSR). Our CSR policy is based on three pillars: people, planet and profit.
People
As a family business, the social well-being of society, employees and clients is important to us. That's why A. de Jong Group always works in accordance with the development, growth and safety of others.
We are VCA certified, showing that we offer safe and environmentally friendly working conditions;
A. de Jong Group is recognized as an official training company by both Ecabo en Kenteq. Candidates can choose from a wide range of internships and graduation opportunities. We offer our employees many education and training opportunities as well, stimulating them to further develop themselves and their careers;
In cooperation with jINC (a non-profit organization helping young people from 8 to 16 years old to jump-start their career) we offer one-day internships. Students can experience working at A. de Jong Group and start preparing for their future;
Our HR department offers application training in cooperation with jINC, Exodus Rotterdam and Yes We Care.
Planet
We take full responsibility for the impact of our operations on people and environment. In order to emphasize this, we developed a logo: De Groene Fabriek (the Green Factory). In general the industry has a bad image; people believe that all industries cause environmental pollution. At de Jong we have a different point of view. We believe that environmental improvement actually starts with the industry itself. That's why we always apply state of the art technology and innovation in our products and production methods, ensuring maximum efficiency with minimum emissions. For example, our total CO2 reduction is 1200kton per year. That is comparable to the total annual CO2 emissions of a city the size of Arnhem with 150.000 inhabitants! Sustainability is based on the following pillars:
Making buildings CO2 neutral;
Reducing emissions, such as CO2 and NOx;
Reducing our client's energy consumption;
Developing sustainable technologies in our R&D department;
Our membership with Cleantech Holland, the Dutch export platform for sustainable and technological products, concepts and innovations.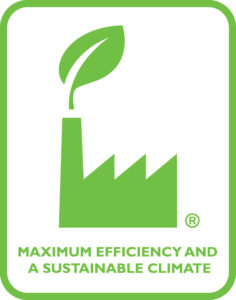 Profit
As a front-runner in our fields of expertise, we have created a healthy financial situation. This allows us to support various social initiatives.