Awards
De Jong employees offer customers best-in-class solutions, are customer-friendly and always think in the best interest of our customers. All this goes without saying within the De Jong. Despite our modesty, our success has not gone unnoticed and that is why we received several awards. We won the: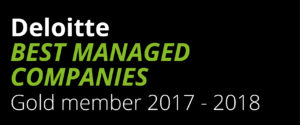 Rotterdam Entrepreneur Award
Recently we have had the honor of receiving the Rotterdamse Ondernemersprijs (Rotterdam Entrepreneur Award). The jury of this award praised the A. de Jong Group for its stimulating policy and the risks the company is willing to take. As a result, De Jong not only inspires and stimulates its employees, but also its competitors, partners and future employees.